THE KILLARNEY MOUNTAIN LODGE STORY
The Lodge was originally built in the late 1950s as a wilderness corporate resort by a large American corporation. Maury and Annabelle East bought the Lodge in 1962 and opened for the public that spring when the road was opened into Killarney.
In January 2015, the Lodge was sold by the East Family and is now under new ownership and management.
Our wilderness hideaway will still reflect the rustic luxury of Ontario's golden age. And our families and staff will bring the Killarney experience to life with great food, friendly service and the best of northern hospitality.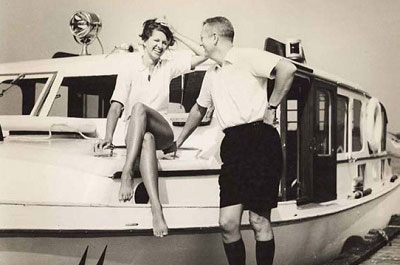 Owners Maury and Annabelle East pictured here aboard the "Killarney Queen" in a 1962 Ontario Tourism photograph.
WE'RE FAMOUS FOR OUR STAFF!
"Last but not least, your staff was what made our stay exceptional. They were all top-notch from the youngest to the oldest. You certainly chose the cream of the crop."
– Lodge guest
The staff at Killarney Mountain Lodge are friendly and welcoming and make your stay with us a special experience. Many return to work with us for several years and establish relationships with our guests. The majority of our staff are residents of Killarney and have been working with us for many years.
We are very lucky to work with talented and devoted people. Ronnie, our gardner, keeps everything green and beautiful while Sue, our baker, will bake you a tantalizing dessert. And they're just two among our many dedicated workers!