Killarney Mountain Lodge now offers various excursions and activities to help guests explore and interact further with Killarney and the surrounding area! Whether your looking for something relaxing, such as taking a cruise on one of our many motor or sail cruises, or something more demanding such as Climbing the Crack, our wide selection of programs has something for everyone!
BOAT CRUISES
Organized excursions at Killarney Mountain Lodge. Please contact the Front Desk for any questions or bookings for our daily excursions. Bookings must be made for our all day trips no later than 8:00PM the evening before the trip. Excursions may be cancelled at the last minute if threatening weather poses a risk for travel.
MOTOR CRUISE
See magnificent Georgian Bay waterways and stunning vistas of the La Cloche Mountain Range from the deck of one of our excursion cruisers. An afternoon trip to discover Covered Portage Cove and its Indian Head or myriad channels and islands of the Eastern inside passage.
SAILING CRUISE
Come aboard "Stormy Night", our 46′ ocean going sailboat. See the magic of Georgian Bay during one of our morning, afternoon or sunset cruises.
ACTIVITIES PROGRAM
ADULT PROGRAM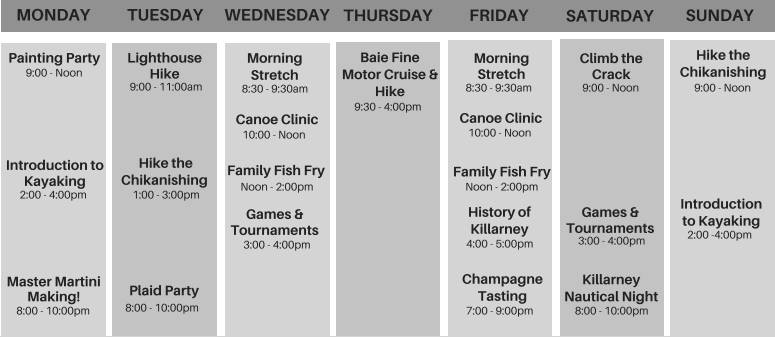 KIDS KAMP